A Celebration of Kurt Zimmerman's Parallel Universes


Sunday, May 8, 2005
2:00 to 4:00 p.m.
Cocoa Civic Center
434 Delannoy Avenue
Cocoa
Florida's Space Coast
Florida's Atlantic Space Coast stretches along the Atlantic coast from Ormond Beach in the north to Sebastian in the south, and encompasses about twenty miles of inland territory. The culture of the Space Coast is characterized by a variety of influences, including maritime and coastal traditions as well as space industry associations and narratives.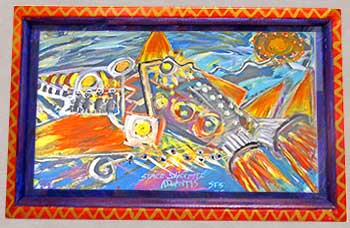 Kurt Zimmerman, like other residents of the Space Coast, spent a number of years involved with the space industry around Cape Canaveral. The space industry in the United States began in Cape Canaveral in the 1950s, and since that time a variety of narratives about the area's people, history, and customs—such as forming model rocket clubs or celebrating successful launches with traditional bean lunches—have emerged. Model rocket clubs such as the Spaceport Rocketry Association serve as ways for rocket enthusiasts young and old to share their passion for and ideas about rocketry. In addition, Florida State University hosts the Florida Space Coast Oral History Project, which records for future generations the history of the space program and the people who built and developed it.
Like the space program itself, the presence of UFOs and alternate universes in Kurt Zimmerman's work relates to the human desire to imagine and explore the unknown.
by Natalie Underberg
(Source: Florida Folklife Program, "Folklife Area 2001: The Space Coast" - PDF Available).