Jim Parker was a member of the Circus Historical Society, Inc. His massive collection of circusiana contains over 6,000 circus photos and 500 clown photos.
Below are a few collected facts to provide a brief history of the circus. You may also click on a binder to jump to a specific year.

circa 2500 B.C.E.
Pygmy clown known to perform for the Pharaoh of Egypt's court.
top
circa 1800 B.C.E.
Court jesters noted performing in China.
top
circa 1500 C.E.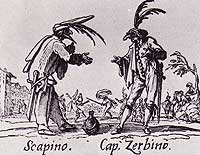 Commedia del Arte began in Italy "comedy of professional artists."
top
circa 1520 C.E.
Aztec court jesters found by Cortez during his conquest.
top
William Kemp and Robert Armin performed as clowns for Shakespeare's Globe Theatre.
top
Robert Armin wrote books on court jesters including Phantasma, which subsequently became one of the earliest histories of clowning.
top
Late 1600's
The emergence of the whiteface clown in modern settings. (other sources contradict that the whiteface clown has been said to date as far back as Greek antiquity)
top
Philip Astley is noted for creating the first circus in England.
top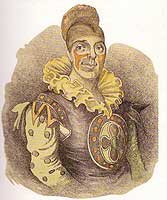 Joseph Grimaldi introduced himself as the clown "Joey"... and is noted as being the "first true circus clown." Joseph is known as "the father of modern clowning."
top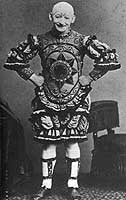 George L. Fox introduced Grimaldi's style of slapstick comedy to the American stage. The Humpty Dumpty character on Broadway is also attributed to him.
top
1810
P.T. Barnum born.
top
1858
Amelia Butler is attributed as being the first female American clown while touring with Nixon's Great American Circus.
top
1870
P.T. Barnum's Grand Traveling Museum, Menagerie, Caravan, and Circus.
top
1874
James McIntyre and Tom Heath are noted for creating the first tramp clown character.
top
1881
Barnum joined with James Bailey.
1888
"Barnum & Bailey Greatest Show On Earth" first toured America.



top
Late 1800's
Dan Rice's clown, some claim as once being the highest paid person in America, surfaced with patriotic wardrobe. Rice was known for his political humor.
top
1907
The Ringlings finally purchased their largest competitor -- Barnum & Bailey Circus.
top
1968
Irvin Feld founded Ringling Bros. and Barnum & Bailey Clown College.
top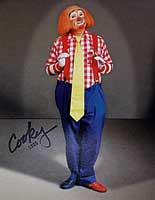 Bob Bell and Roy Brown, Bozo and Cooky respectively, performed on "Bozo's Circus" and "The Bozo Show."
top
1970
Bob Bell, (Bozo the Clown) received an Emmy award.
top
1984
Cirque du Soleil formed.
top
1987
International Clown Hall of Fame (CHOF) formed.
top
1992
Roy Brown, (Cooky the Cook) also received an Emmy award for his clown character.
top
2003
40 million people have seen the Cirque du Soleil since its inception.
top