Meet the Community | Events | Links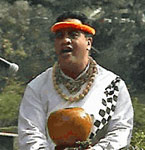 Because of economic and educational opportunities, family ties, and/or associations with religious institutions, many Pacific Island peoples have settled in increasing numbers within the continental United States. Many attractions and restaurants in the Central Florida area and other large coastal cities have lured many of the island's most talented and traditional performing artists. In addition, many Hawaiians have settled in Florida because of their careers in the U.S. Military Services.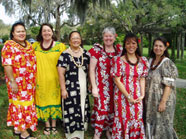 Video Clip:



Sharing Culture

Learn how Ginger shares the Polynesian quilting tradition.


Pacific Island cultures developed various craft traditions that helped them survive difficult transitions. These craft traditions also filled their lives with beauty. American missionaries first brought quilting to Hawaii; however, Hawaiian women quickly adapted this tradition to their own sense of aesthetics and world view. Hawaiian quilt designs are inspired by nature but have a personal and symbolic significance known only to their maker.
For 28 years, Ginger Lavoie lived on the relatively undeveloped Island of Moloka'i . While living in Hawaii she studied quilt making with an accomplished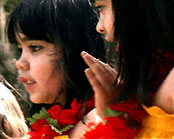 native quilter and went on to become an excellent quilter in her own right. Ginger eventually returned to Orlando to be near her parents. She has been featured in many exhibits and numerous publications. Ginger also served as a master artist in the Florida Folklife Program's Apprenticeship Program from 1999-2000. She is an integral part of the Polynesian community in Orlando, Florida, and participates with her family in a wide range of community events.

Text: Tina Bucuvalas
Edited: Mel P. LeClair