Ginger LaVoie
b.1950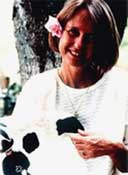 In 1968, Ginger LaVoie, originally from Central Florida, was drawn to the Hawaiian culture and moved to the island of Molokai in Hawaii. As she immersed herself into the island's culture, she studied traditional Hawaiian quilting under Johanaa Wong-Leong. Ginger became an expert in not only quilting designs and techniques, but also in the rich history, spirituality, and folklore deeply embedded within this craft. Hence, all of her quilts are specimens of beautiful and skillful art based on the tradition and experience of Hawaiian culture.
Video Clip:

---
Audio Clip:
Ginger's Story
Click play button to hear more of Ginger's life story.
Although LaVoie relies heavily upon Hawaiian tradition and spirituality in her work, she notes that Christianity plays a very important role in her life. She believes that, in the past, God helped her renew her family as a priority in her life, and that the process of quilting is a testimony to her faith. She believes that "God works through my life in many ways with many lessons and I hope that this essence will reflect in the stitches of my quilts."

When LaVoie moved back to Kissimmee, Florida, she acquired a job demonstrating quilting at the Disney Polynesian Resort. Now, her quilts are in such demand that she has several women in North Carolina quilting for her; but, she continues to do all the original designing and appliqué work. She describes the "laying on" of the appliqué design as a form of "caressing the quilt." She refers to this process as the "birthing of the quilt," which is very spiritual in nature.

In 2000, Florida's Division of Cultural Affairs recognized her as a master in the art of Hawaiian quilting and granted her an Individual Fellowship Award. She has also been featured several times on the PBS Florida Crossroads program.
---
| | |
| --- | --- |
| | Designed by the University of Central Florida's Heritage Alliance in the Zora Neale Hurston Institute for Documentary Studies, School of Film and Digital Media and the Texts & Technology Ph.D. Program. |