Global Paper Cutting Traditions
Videos:
---
Paper-cutting traditions are found all over the world and are practiced in a variety of ways and for different purposes.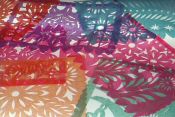 In Mexico, people make paper cuts or papel picado to decorate home altars during Day of the Dead celebrations. These lacey designs are made by punching holes through layers of colored papers using a grid of squares.
France, Germany, and Poland have strong paper cutting traditions. French paper cuts or découper are primarily silhouettes that are cut out of paper. German paper cut art or Scherenschnitte is made by folding the paper to create three dimensional figures. These paper cuts are usually symmetrical and are used to decorate legal documents such as marriage and birth certificates. Polish paper cuts or wycinanki are made with layers of brightly colored paper and are used as Christmas and Easter decorations.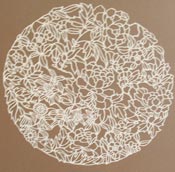 In China, paper cuts take on a variety of forms. One process is called guajian and is used to make decorations for the New Year. The pieces are printed with woodblocks, gilded, or cut into ornamental fretwork. The intricate fretwork patterns are made freehand using either knives or scissors. These paper cuts are mostly made by women in the home.
Some different names for paper cutting throughout the world are knippen (Dutch), monkiri (Japanese), and k'e-chih (Chinese paper carving).